Mokona Resting on Hikaru's Lap
Source: TV
Layers: 2
No sketches available
Cel Number: A1E, B1
Standard size

Key Cel
No Background

Added 1/1/2008
Updated 11/11/2017

Episode 41 (Giant Sang Yung versus the NSX!), cut 14. This cel shows Mokona nestling in Hikaru's lap with an exceptionally self-satisfied and relaxed look. Sequence numbers: A1E (Hikaru's body), B1 (Mokona).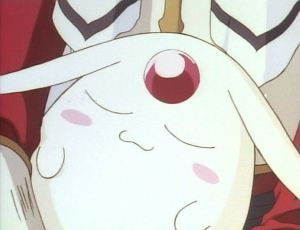 The layers in this set came carefully bagged separately, so I was able to image the A1E layer by itself (see thumbnail). Visit it, just to see how much care Studio CLAMP took with costume details that would never be seen. That layer was painted nearly corner-to-corner to give Moky a warm, comfortable A-layer to sleep on.


Click to open in new window