Natsuki Faces a Battering Ram
Source: TV
Layers: 1
Sketches: 3
Cel Number: A1 END
Standard size

No Background

Added 11/10/2007
Updated 9/16/2016

Episode 11: I Want the License, cut 60. Sakura and Natsuki are taking a skills examination for their bounty hunters licence, and for the swordsmanship Natsuki has to deal with three wooden battering rams that are swinging toward her from different angles. Here's her reaction, as recorded by one of the huge logs closing in on her (note the zoom into her face indicated on the sketch).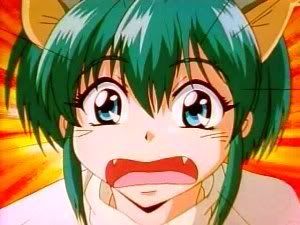 Above is the colorful A1 END genga. The image was refined in a nearly complete but very faint shuusei (first thumb).




SENSEI CHECK!

This episode was overseen by Shinya Sadamitsu. This artist oversaw many of the key adventures from this series, including episodes 5, 15, 20, and 25 (the series conclusion). Overall director for the notoriously random Dragon Half OVA (1993), he also worked on a variety of other series, including Gundam Wing and Fushigi Yuugi . The sketches I've gotten for this and my other Sadamitsu episode (#20) emphasize the comic side of the action.

The very faint shuusei featured in the first thumbnail is likely the work of Animation Director Yoshihiko Takakura, who did a lot of work on series for younger audiences, including Crayon Shin-chan (on which Sadamitsu also worked), two of the Pokemon movies, and the 1980 remake of Astro Boy. For another example of his work, see this fine sketch of Sakura in the gallery devoted to Natsuki's partner.


The rather crude and cartoonish copy layout in the second thumb may be Sadamitsu's work.


Click to open in new window