Batanan and a Lion Friend
Source: TV
Layers: 1
Sketches: 3
Cel Number: A1 END
Standard size

No Background

Added 11/10/2007
Updated 5/23/2017

Episode 18: Age of Cohabitation, cut 165. Natsuki is drying off her anatomy after returning from the public bath when Nupu, a lion bounty hunter friend, bursts in with news that he's located the Cat Cross Army (a group of nekomata outlaws that will be central to the next episode).

Needless to say, Natsuki instinctively fries him with her electric powers, and here, he's good-heartedly apologizing for barging in the door without knocking first.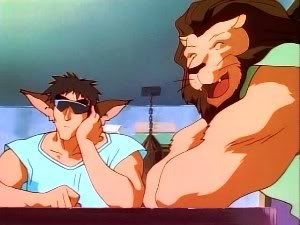 Featured above is a nice rough sketch by episode animation director Yasuhiro Takemoto that captures the lion-spirit's jovial personality nicely. Takemoto became a central animator for the Ishihara-tachi and overall director of the 2010 Haruhi Suzumiya movie)

The first thumb takes you to the (unfortunately very faint) copy layout, where you see that, in the first conception, the leonid was given rather stereotypical bandages to show that he'd been fried. In the final version, seen in the A1E genga (second thumb) and the screen cap below, he's simply given some barely visible scorch marks.


Click to open in new window