Batanan Looking at Natsuki
Source: TV
Layers: 1
No sketches available
Cel Number: A1 END
Standard size

No Background

Added 11/10/2007
Updated 5/23/2017

Episode 18: Age of Cohabitation, cut 173. Natsuki makes supper for Batanan and his leonid friend Nupu, and we get a series of "Food Channel" still images of the tasty things she serves up, concluding with this nice, slightly nervous image of Batanan.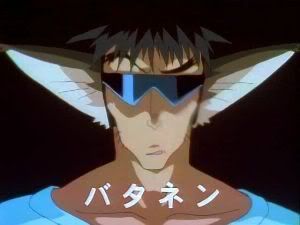 At the moment he's thinking that all these dishes are rumored to have aphrodisiac properties, and so he's wondering if Natsuki is trying to tell him something. As all the food served up was identified, "Iron Chef" style, by screen titles, so too the image of Batanan was given a title in the same style. It just says "Batanan."

All I got in this set was this nice A1 END genga and the timing sheet; I'd guess that the rough and other extras were pulled out by the consignee for separate sale. This is another nice surprise housewarming gift from Drakonia.