The Legendary Mentor -- Mask do Mexico
Source: TV
Layers: 1
No sketches available
Standard size
Opening Cel

No Background

Added 9/15/2007
Updated 9/29/2007

The backstory is that Kaoru's dad apprenticed himself to "Mask do Mexico," a legendary Mexican practitioner of lucha libre. This is an especially nice pan image of this wrestling legend, wearing the mask and costume that he will soon pass down to his student.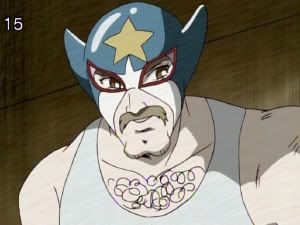 Screencap courtesy of pKjd's blog review .