Sakura Bound by The Wood
Source: TV
Layers: 1
Sketches: 1
Cel Number: B4
Oversize, 10.5W x 17H

No Background

Added 10/12/2002
Updated 4/15/2017

Episode: 46 (Sakura and the Last Judgment): In her battle with Yue, Sakura tries to use The Wood to defeat him without causing him pain, but the Judge reflects the Card's power onto her and ties her up with vines, Crucifixion-style. Sequence number: B4.

This is a creepy, evocative image, reminiscent of CLAMP's use of the Crucifixion in X: The Movie. The sketch is actually numbered B4/1 + B7E. I think this means that the two biggest strands of the vine and the lower parts of Sakura's mantle, which are left out of this sketch, are exactly the same as in other cels. If you view this sequence, you'll see that rapid intercutting among similar but not identical cels creates an eerie "trembling" effect appropriate for the moment.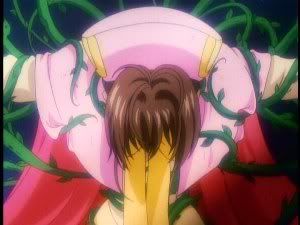 Screencap courtesy of Desertmoon.org

I do not know for sure how many of these nearly identical cels were painted (I assume seven from the "B7E" notation on the douga). Rallihir's Cel Gallery has the B5 in this sequence, and other versions of this impressive pan image are held by Baka-Inu Cels and by Ryan's Gallery. One was at one time in another American collector's hands (I received a digital photo showing it hanging framed on his living room wall), one was previously sold in 2001 by Anime Chaos, and one sold in Spring 2002 for what was then a record price for a CCS cel on eBay (these last three might be the same cel).




SENSEI CHECK!

I remember the eBay auction well. The cel popped up on the auction block, and, having missed out on the one that had sold from the AC sale page, I was ready to bid the max (well ... Sensei's max then wasn't much, but it was good money for me anyhow).

Then suddenly the cel was off the block. A flurry of explanatory messages went up on Animanga, explaining that, somehow the seller's account had lapsed or something. Then it was up again. Hah! Before it disappeared again, I stuck a bid on it, a good $25 more than the AC cel had sold for. I figured that would get it.

The bid stood up for four hours, then someone topped it. I fretted overnight, wondering, if I raised my bid another $150, would that be enough to get my wife to avail herself of one of these free divorce lawyer consultation sessions that they were advertising on TV?

Still undecided, I got up next the morning, checked the auction, and I was saved! Someone had by now upped the ante $200 dollars beyond anything I was ready to bid, and from then on all I needed to do was keep the popcorn coming and try not to eat the bag too while the bids soared up and up and up.

Well ... in the end I could only congratulate myself for having very good taste in cels I'd have liked to have, though not a lot of sense in how much money it would actually take to get them.

And later that year, on a Friday afternoon, I was in my office wearily finishing off a week of academic paperwork. With the papers graded and the books put away, I got ready to shut down the desk-top computer and head home, but, since Nick had promised an update that night, I figured I'd have a look at the AC site, just to see ... well ... just to see what I would see.

Surprise! That day Nick had stolen a march on us collectors and put up the new items in the afternoon (rather than in the evening, as we were used to waiting for him to do). And there, among the new cels for sale, was this beauty -- and priced at about one tenth of the final sum that its sequence-mate had gone for on eBay.

Hands trembling, I sent in my order at 4:10 PM, then called home and made an excuse for staying a little longer. Then ... "check mail" ... "check mail" ... "check mail" ... "check mail" ... until finally, at 5:01 PM, "The cel has been placed on hold for you!"

Yes, yes, "stuck to sketch," but in the end it wasn't stuck badly and not in a delicate place, so it was easy to separate. It's since enjoyed an honored place as one of my most cherished cels, not because of the price I paid but because it proved to me that, sometimes, wishlists really do come true.


Click to open in new window