Slayers 8 - Levitating Lina A2
Source: TV
Layers: 1
Sketches: 2
Cel Number: A2
Standard size

No Background

Added 7/7/2007
Updated 6/1/2017

Slayers, Episode 8 (HELP! Shabranigdo Is Reborn!), cut 120. The adventurers have arrived at Rezo's tower, and a phantom image invites them to climb the ten zillion stone steps to its very top. Lina proposes to make this tedious job simpler by using a levitation spell.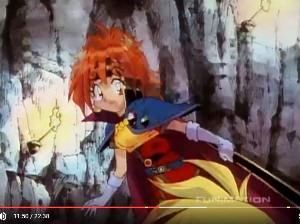 This is the A2 (the A1, not imaged, just shows her head starting to appear) showing Lina flying up with effortless grace. The thumbnail adds the pan copy layout that came with this set, showing Gourry sweatdropping at the prospect of the vertiginous flight ahead.




SENSEI CHECK!

Animation director for this episode was Hiroto Kato [加藤 洋人], a wide-ranging artist who started as a key animator for the Ah My Goddess! OAV and did storyboarding and episode direction for a variety of series, including Angelic Layer, Code Geass, Scrapped Princess, and Vampire Princess Miyu. He supervised animation for three other episodes of Slayers, plus seven in the following Slayers Next.


Click to open in new window