Slayers 2 - Lina's Got the Swag
Source: TV
Layers: 1
No sketches available
Cel Number: C6
Standard size

No Background

Added 7/7/2007
Updated 6/1/2017

Ep. 2 [BAD! Mummy Men Aren't My Type!] Lina is dashing into a magic store with a bag of jewels that she's just transformed into magical amulets. This is the last and most detailed of an enormous set of sketches that show Lina, first at the door or the shop, then running toward the viewer with the big sack in her hands.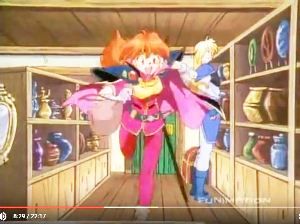 The action of Lina's hair and elaborate costume are brilliantly done in this sketch. Thanks to Galexia, the Slayers-savvy RS curator of Bunny on the Moon Cels, for the episode ID.