A Scene at Mealtime
Source: TV
Layers: 1
No sketches available
Standard size

No Background

Added 7/7/2007
Updated 6/24/2017

This huge pan sketch shows a dramatic moment that comes, as they often do in this series, over a meal. A low perspective shows Zelgadis from the back, his hand near a bowl of the best this town can summon up, with Gourry to his left, knife in hand, and several other townspersons, some farther down the table, others peering curiously over the railing of a second-story gallery. In the middle, Lina is making a point so dramatically that her raised hand is distorted, pointing dramatically far over the table toward Zel.

The sketch (sadly disfigured with a splat of yellow paint) shows how the studio began this cut with a close-up of Lina's hand, then tracked back to show the whole scene. Note the little inset drawings that refine the little images of the townspeople.

Oh, and by the way ...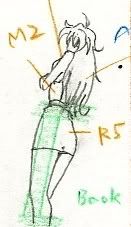 Anyone know who this character is who's posing provocatively against the gallery railing in the back, just above Gourry's head?