Chiaki Molesting Maron: A2/A3
Source: TV
Layers: 1
Sketches: 2
Cel Number: A2, A3
Standard size

No Background

Added 6/8/2007
Updated 9/29/2017

Above is the A3 key, in which Maron makes contact with Chiaki with her lethal flying elbow. How does he survive?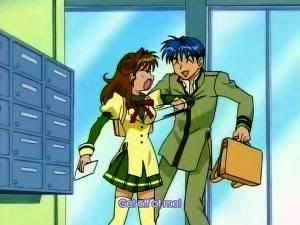 Interestingly, in the previous A2 key, when she winds up to let him have it, he's still holding onto her: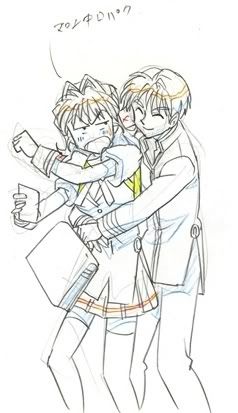 But then, if you look at the dougas that came with this sketch set, you see that, in the instant before she lands the blow (A5 douga), he suddenly lets go and steps back with the punch instead of absorbing it: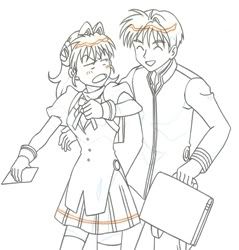 As a result, Maron gets the satisfaction of launching an attack that would put a lesser letch into cardiac arrest, and Chiaki gets to try out his magical rival's defensive reflexes. Would one call this a marital arts strategy? Chiaki/Sinbad certainly seems to think so!