"I Know I'm Strange!"
Source: Movie
Layers: 1
Sketches: 1
Cel Number: A18
Oversize, 14W x 9.5H

No Background

Added 4/24/2007
Updated 3/11/2017

"You didn't use to be like this," Popo bursts out. "Now you're strange!"

"I know I'm strange!" he blurts out with intense anger. "That's why I'm trying to become human!"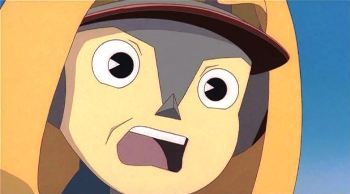 Hmmmm ... and then the two pause and think for a while over what that means ...

An intense close-up of Palme, whose simple facial design nevertheless shows a complex mixture of the mingled guilt and anger that shows how human, alas, this painful experience has already made him.


Click to open in new window