A Hunter Prepares to Kill Koram
Source: Movie
Layers: 2
Sketches: 2
Cel Number: A2, C3
Oversize, 13.25W x 9H

No Background

Added 4/24/2007
Updated 4/14/2017

In the first scenes, a group of hunters pursues the warrior woman Koram across the desert. Spotting her, they circle around to intercept her, while one of them, wearing night vision goggles, prepares to cut her down with this huge and apparently sharp blade. Sequence numbers: A2 (Hunter), C3 (airbrushing).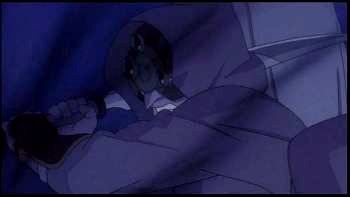 An intense image, made the more so by the extravagant airbrushed plumes of dust thrown up by their speeding vehicle.

However, that blade can't be nearly as keen as it looks; a moment later Koram simply grabs it with her bare hand and contemptuously jerks the Hunter out of his craft.


Click to open in new window