Creepy Gyariko and Popo
Source: Movie
Layers: 2
Sketches: 2
Cel Number: A18, B6
Oversize, 13.25W x 9H

No Background

Added 4/24/2007
Updated 4/14/2017

A disturbing cel of Gyariko, the wealthy merchant in the town of Flamingo. He's especially creepy while he's hitting on poor Popo, who's attending her nasty mother on a shopping trip. Here he's just picked up Palme's glowing pendant, which has fallen through a vent onto the floor. Thinking it's a gift from one of Popo's other lolicon admirers, he's about to slip it into her pocket, giving her a creepy feel in the process. Sequence numbers: A18 (Gyariko), B6 (Popo).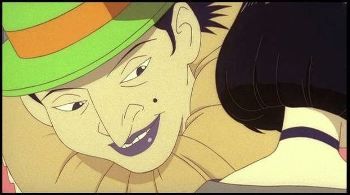 This set is slightly mismatched, with the Popo layer actually showing her looking over at the sound of the pendant falling. By the time Gyariko gives her this vulpine leer, she's actually turned her head shyly in the opposite directions so she doesn't have to look at him. Still, this image captures this disturbing scene well.


Click to open in new window