ED: Natsuki Watching for a Shooting Star
Source: TV
Layers: 1
Sketches: 1
Cel Number: A13
Standard size
Ending Cel

No Background

Added 3/30/2007
Updated 6/21/2017

The animation for the end credits to this series shows Natsuki perched on top of her house, watching patiently for a shooting star so she can make a wish on it. A common belief in Japan holds that if you see a meteor and make a wish before it fades away, it will certainly come true -- but since they appear and disappear so quickly, you have to watch for one with your wish ready on your lips. That's obviously what poor Natsuki is doing, and I'd guess the wish has something to do with her love for Batanan.

Unfortunately, the heavens are playing tricks with her: we see a cartoonish image of a star rushing across the sky, intercut with images of Natsuki bringing her head up as quickly as she can to see it; but just as quickly, the shooting star breaks up and disappears.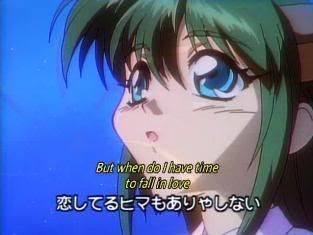 This pretty cel (Sequence number: A13) shows her near the end of her lightning-quick look up, a little disappointed because she's missed her chance. But she keeps trying, and so we see the same sequence a second time later on, intercut differently with the cartoon star.

A Hyper Police Anime Gallery also has a cel from a little earlier in this sequence and Kittyfire has the A17 from a moment after mine.


Click to open in new window