The Immigration Officer Non-plussed
Source: TV
Layers: 2
Sketches: 2
Cel Number: A1 END, B2 END
Standard size

Key Cel
End Cel
No Background

Added 2/2/2007
Updated 5/8/2015

Cut 289. The conscience-stricken Miruru returns to turn herself in so Noelle can be released, and her act is so totally out of character that the entire cast stares at her dumbfounded. Sequence numbers: A1 END (everyone), B2 END (Cerberus mouth layer).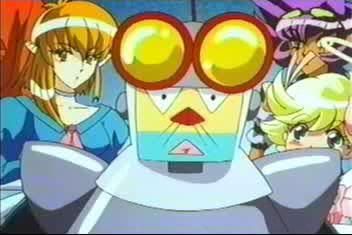 I got a C1 layer with this set (not imaged) showing the back of Miruru's head. This cut was broken in half with a flash cut to Miruru's face. In the first half, we see only her audience, as seen above in the screen cap. But in the second half, the back of her head (out of focus) is used on the left half, as she makes her confession.

Cerberus, the Immigration Officer, is a favorite minor character of mine, bluff and commonsensical, and I'm happy to get such a fine full-face portrait of him (not to mention one of many delightful Tennimon "family portraits" behind him). His decision to apprehend Noelle as the one who who's most out of place is, as we learn, much less of an error of justice than at first seems. And what he's about to do now, after hearing Miruru's unexpected confession, is also totally illogical ... and yet absolutely right.





Click to open in new window