Noelle Tries to Kiss Yuusuke 1
Source: TV
Layers: 2
Sketches: 2
Cel Number: A19, B13
Standard size
Opening Cel

No Background

Added 1/16/2007
Updated 4/22/2017

Just before the end of the OP, Noelle dreams she sprouts wings and swoops down on Yuusuke for a kiss. At this moment, he's responding to Noelle's eagerness with a look of shy bashfulness, which he holds for quite a long time while his destined helpmate hovers near him. Sequence numbers: A19 (Yuusuke), B13 (Noelle).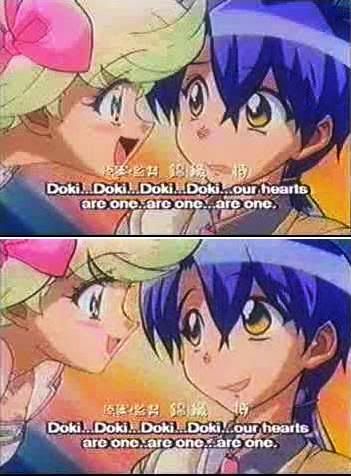 This sequence was painted with delicate, unusual coloring, perhaps to foreshadow the effects of the Durian Comet. The tints used for both characters are all "frosted" or slightly paler than normal: the eyelids of both characters, for instance, were painted dark green rather than black.

Also, it's interesting that part of the sequence uses two layers, so that Noelle and Yuusuke can move independently. The set I got, in fact, had the two cels carefully separated in separate bags. This set isn't strictly matching, as you can see from the screen caps above, but they suit each other well.

Otakusin has an A3/B2 two-layered set-up from earlier in this cut, Baka-Inu Cels has another set, and Drakonia's Cel Lair has an A7/B7 set. Later images (like the following sequence-mate) used only a single A-sequence layer.


Click to open in new window