Entrance Bank: Miyako a.ka. Rolling Bubbles.
Source: TV
Layers: 1
Sketches: 1
Standard size
Opening Cel

No Background

Added 12/28/2006
Updated 1/8/2018

Here is Rolling Bubbles, Miyako Gotokuji's magical alter ego, as she appears at the start of a dramatic entrance bank that seems to have premiered with Episode 15 (sketches from it are always mixed with others that show scenes from this episode) and became, with the henshin sequences, a regular part of the show from then on.

Miyako is the most "girlish" of the trio, focused on typical feminine sports such as shopping, smart clothes, and pets. For magical girl poses like this, the unbending anti-fan-service fabric that Toei first used in KKJ comes in quite handy.

Don't underestimate her powers, however, as she can be unexpectedly fierce in battle, using not only the bubbles she blows but the bubble wand itself as a throwing weapon. See also the somewhat less developed sketch of this pose in the thumbnail.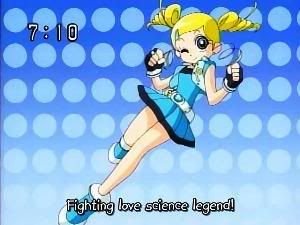 Click to open in new window