Entrance Bank: Kaoru a.k.a. Powered Buttercup.
Source: TV
Layers: 1
Sketches: 1
Standard size
Opening Cel

No Background

Added 12/28/2006
Updated 1/8/2018

She's closely followed by Kaoru Matsubara, aka "Powered Buttercup," her magical form. Kaoru represents the more athletic side of the female spectrum, with her main emphases being martial arts, tennis, and soccer. She dislikes the "cute" stereotype of young girls, and so she often comes into conflict with the other two. However, as part of the PPGZ, she is a fierce and devoted companion.

Most images of Kaoru/Buttercup make her look like a boy; but she's definitely all girl, as you can see if you visit the thumbnail and see the preliminary sketch on which this image was based. That drawing devotes more emphasis to her normally concealed feminine side than usual. Note that in this earlier stage, the animators had Buttercup look to the side rather than directly at the audience, as in the sketch seen above.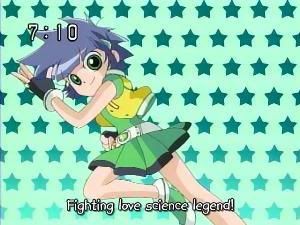 Click to open in new window