Entrance Bank: All Three (Final Pose)
Source: TV
Layers: 1
Sketches: 2
Standard size

No Background

Added 12/28/2006
Updated 1/8/2018

A great concluding image to the entrance bank, showing the three striking dramatic poses appropriate to their characters.

This is a second-stage draft, a revision of an earlier conception that you can see in the first thumbnail. The balletic poses there were especially pretty, but in fact the animators finally went with something a little more athletic. They did keep the background divided into thirds to highlight each PPG's symbol: stars for Buttercup, hearts for Blossom, and ... well ... bubbles for Bubbles.

See the partial shuusei in the second thumbnail showing Buttercut and Blossom (and Bubbles's curls) in a pose that now is identical to the screen cap.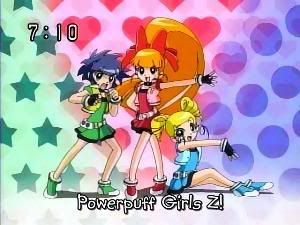 Click to open in new window