Mojo Reveals Himself 2.
Source: TV
Layers: 1
Sketches: 2
Standard size

No Background

Added 12/28/2006
Updated 2/27/2017

"The better to go BWA-HA-HA-HA-HA-HA!!! with, my dear!"

Here the two sketches were together on the same sheet, so the digital pasting wasn't necessary. A very impressive dramatic scene!

See the thumbs for the B2 image, where Miyako and Momoko jump so vigorously that they have to hang onto each other to keep from going onto their duffs again, and for a very impressive B4/C4 shuusei.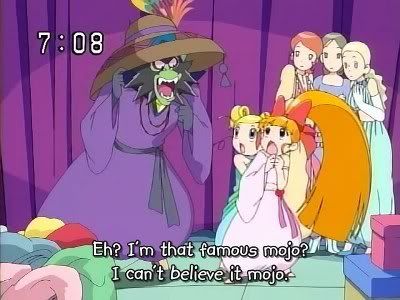 Click to open in new window