Henshin: Nearly Complete!
Source: TV
Layers: 1
Sketches: 1
Cel Number: B35
Standard size

No Background

Added 12/18/2006
Updated 4/21/2017

At the end of the next-to-last phase in Karin's henshin into Tonde Buurin, her superhero costume is completed with a red circle on her chest, which in a moment will receive the hiragana "B" for "Buurin." Sequence number: B35.

After nabbing my first cel from this justly famous transformation bank, I thought I'd gotten a once-in-a-lifetime cel. Much to my surprise, this bank cel showed up soon afterwards on Yahoo Japan, along with two other very nice items, and Vapalla and I were able to fight off a crowd of Asian sharks for bragging rights.

This one is unusually nice, because after the opening moments of the bank (in which the magic snout appears) there are only three cels showing Karin doing her henshin with her lovely green eyes open. It succeeds in being simultaneously sexy, inspiring, and extremely funny ... a rare and admirable thing in animation.

To give this great cel a background with similar impact, I downloaded and printed "Super Henshin," contributed to the RS Background Gallery by cutiebunny.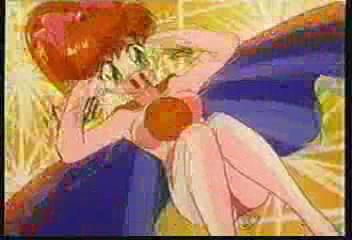 Click to open in new window