All Right ... (Eyeball zoom)
Source: TV
Layers: 1
Sketches: 2
Cel Number: A3
Standard size

Key Cel
End Cel
No Background

Added 12/14/2006
Updated 1/30/2007

And this is the image that the episode leaves you with as the scene fades into the closing credits. Eyeball zooms are an uncommon but very effective anime technique, often used to signal a character turning inward to find the spiritual strength to use against a difficult enemy. You can see a similar move in my sketch set of Hikaru regaining her magical strength during a pivotal battle with Nova.

Visit the first thumb for a look at the sakkan's complete refinement of this sketch, adding additional depth and giving the glimmery highlight added emphasis.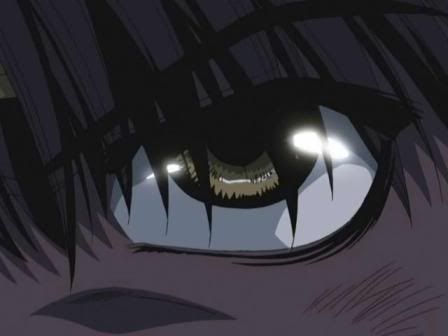 Click to open in new window