Popo Meets Palme
Source: Movie
Layers: 3
Sketches: 3
Cel Number: A15 END,B15 END, C1E
Oversize, 25.5W x 18H

Key Cel
End Cel
Book Cel
Original Matching Background

Added 11/29/2006
Updated 3/25/2015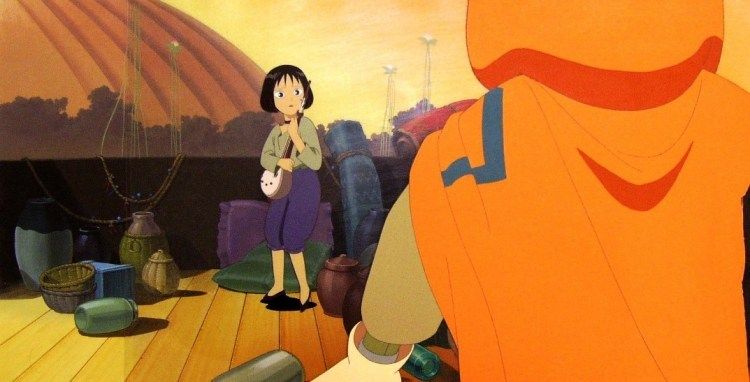 Cut 795. During a calm period in her tempestuous life, Popo sits on the deck of the houseboat where she and her mother live, playing on a small musical instrument and singing. Her song attracts Palme's attention, as it reminds him of his dead mistress Xian, and he approaches her, calling "Xian? Xian?" Popo, as expected, is frightened by the android's appearance, and stands looking in shock as the back of his cloaked form slides into the frame from the right. Sequence numbers: C1 END (Palme's back), B15 END (Popo), A15 END (Popo's shadow).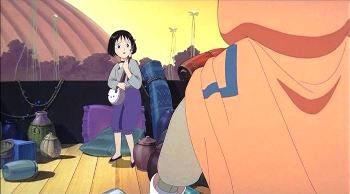 This is an important, emotional moment in the movie, establishing the uneasy relationship between the two, where Palme uses her at times as a substitute "mother," yet where Popo comes to understand and pity Palme's dilemma as an inanimate object given an unwelcome and tormenting awareness of the transience of human life.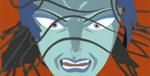 KORAM CHECK!

This setup is also significant simply for the grandness of its size. At 65 mm. x 45 mm. (ca. 25.5 x 18 inches), it was by far the largest piece of animation art that I owned -- until the 2008 "messy midden" purchase brought me an even huger set-up from this film.

When I unpacked it, my scanner ran and hid in the closet, so I had to use a digital camera to make these images. The compression necessary to display this piece on the Web makes it difficult to appreciate this size: you simply have to be in the same room with it.

Even the cels (50 mm. by 41 mm.) are huge, including the A-layer on the bottom that is blank except for the spot of black that stands for Popo's shadow. One can only imagine the light table that was used to photograph this canvas-sized set-up. Click the thumbnail for an uncropped image of the entire setup.

If you take a side trip to "Sketches and Backgrounds," you can have a closer look at the lovely background, with the cel layers removed so you can appreciate it fully.


Click to open in new window