Miyako Hands out Parts for "Little Red Riding Hood": A5/B4
Source: TV
Layers: 1
Sketches: 2
Cel Number: A5, B4
Standard size

No Background

Added 10/31/2006
Updated 9/29/2017

The scene is interrupted with a brief close-up of the geriatric Grandma doll that Maron will get to use in the play, and when we return to the scene, Maron is looking daggers at the immensely self-satisfied playwright and puppetmaster.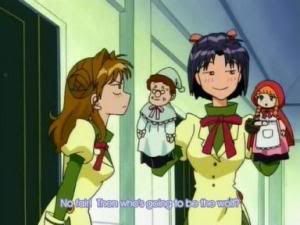 The gengaman (episode animation director Sasakado, I believe) used a single sheet for this critical image, one of the finest and funniest gengas I've managed to capture. The details on the two puppets are minutely and effectively done.