Henshin!
Source: TV
Layers: 1
No sketches available
Cel Number: B13
Standard size

No Background

Added 10/29/2006
Updated 4/21/2017

The brief henshin that Karin, the normal schoolgirl, undergoes to become Tonde Buurin (Super Pig) is one of the most delightful 45 seconds in Japanese anime. Who would have thought it possible to get a cel from this classic and presumably much-desired moment?

But here she is, posing dramatically as her long Superpig cape expands over her shoulder, magic snout and curly tail already in place. A lovely, striking, and incredibly silly image.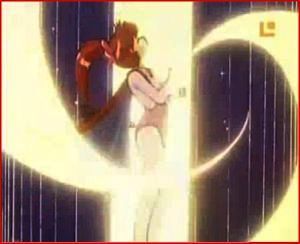 There is a quick montage of images of Karin's face turning and tumbling just before this moment. Vapalla's cels has a cel from the start of this part of the henshin as well as the B28 from just before this image.

To give the cel a background similar in impact to the original, I used three pieces of scrapbooking paper, one a translucent piece of vellum that gave the cel the right degree of over-the-top elegance.

The douga I got (see the thumb) was unmatching but nice in its own way, showing Karin spinning around as her cape begins to grow from her shoulder. You get a better view of the magical snout in that image.


Click to open in new window