Natsuki on the Prowl
Source: TV
Layers: 1
Sketches: 1
Cel Number: A7
Standard size

No Background

Added 10/29/2006
Updated 8/24/2013

Episode 9: Friendship like Ice. This dark-toned but lovely image shows Natsuki getting down to business and doing what she does best: stalk a collar. Here she and Sakura have discovered a gang of kidnappers running what seems to be an especially ugly child sex ring.

Sakura tells Natsuki to have patience: she wants to apprehend both the kidnappers and their customers. But the cat-girl's dander is already up. Notice that both her cat tail and pony tail are twitching actively and she's got one fang out, a sign that she's about to pounce. Sequence number: A7.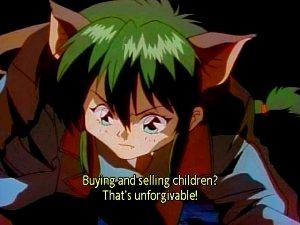 Click to open in new window