Natsuki Undercover: A8
Source: TV
Layers: 2
Sketches: 2
Cel Number: A10 C10
Standard size

Key Cel
No Background

Added 10/29/2006
Updated 8/24/2013

Ep. 19 (There Is No Tomorrow for the Cats?), cut 71. Natsuki, working undercover to expose the outlaw gang called the Cat Crusaders, has gotten herself arrested, along with Mao, a feisty young catgirl. The youngster promptly gets into a catfight with one of the other inmates who disses the Cat Crusaders. Sequence numbers: A8 (key, Natsuki), C10 (key, Mao).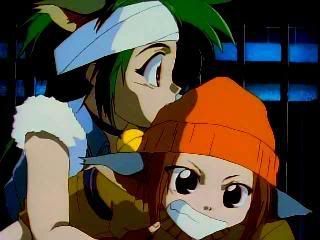 I love the tough brat in her arms that's struggling to mix it up some more. Lovely muted colors make this cel a treat.

See the next item for the A2 from this cut, which is nicer of Natsuki but lacks the C-layer with Mao whom she's gently restraining. Or visit A Hyper Police Anime Gallery to see another cel combination from this cut.