Sakura Empowered
Source: TV
Layers: 2
Sketches: 1
Cel Number: A1 END
Oversize, 10.75W x 18H

Key Cel
End Cel
No Background

Added 10/27/2006
Updated 8/30/2013

Episode: 20 (Sakura and the Fighting Exchange Student): With Meilin being worn down in her exchanges with The Fight, Sakura realizes that to save her, she needs to do something to distract the Card's attention and seal it. She activates The Power, calling for it to concentrate in her sealing wand; then she shouts, "Hold it!" to Fight. Sequence number: A1 END.

Throughout much of the episode Sakura has been upstaged by Meilin's more dynamic personality and the Fight Card's savage efficiency; and so she looks embarrassed, or confused, or frightened in most of the cuts where she appears. But this climactic "make my day" pose is one of her finest moments. See how cleverly the studio has used foreshortening to make her fist and the bird-head of her staff look huge and full of Power.

In the final version, the studio made this image even more intimidating by adding a "glowing" effect all over Sakura and the Staff, as you can see in the screen cap below.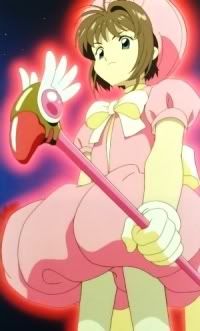 Screencap courtesy of Desertmoon.org


Click to open in new window