Natsuki Worried about Sakura
Source: TV
Layers: 2
Sketches: 2
Cel Number: A6, C1
Standard size

Key Cel
No Background

Added 8/29/2006
Updated 8/24/2013

Ep. 14 (Samurai Japan), c. 183: Natsuki comes home and finds Sakura, who thinks she's been raped, eating herself into a stupor. This cut opens with a shot of the back of Sakura's head, slumped forward chomping on a daikon; then we see Natsuki bend over with this anxious look on her face. Sequence numbers: A6 (key, Natsuki), C1 (key, Sakura)

This set of cels is slightly mismatched, as you can see from the screen cap, but it nicely combines Natsuki's humanoid characteristics with a very "catty" expression that I've actually seen on my Ollie-Wollie's face when he's worried about me. For the (very funny) gengas that go with the rest of this cut, take a side trip to the Hyper Police sketches gallery.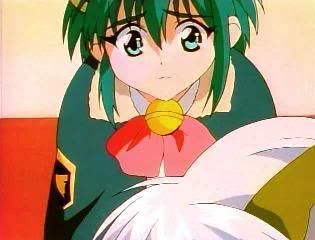 Click to open in new window