Son Goku has lunch: animated dougas
Source: TV
Layers: 2
Sketches: 42
Standard size

No Background

Added 6/19/2006
Updated 1/30/2007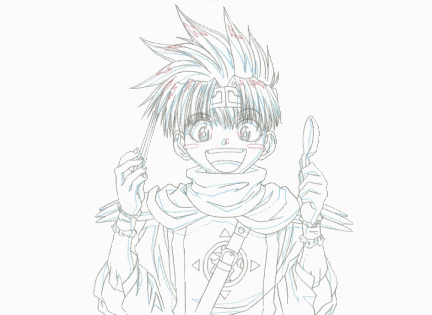 Vampyworx and I tried to imitate the instructions on the timing sheet (which I got with this huge set). Son Goku first pauses looking forward (C1), looks left and pauses (C6), then looks right and pauses (C13).

Then he closes his eyes and: C21 C23 C21 C22 C23 C22 C21! See how clearly this adds up to "Itadakimasu!"

The following dougas, C24 to C41 END, then tumble in at double speed as he lunges for the first dish with his chopsticks and is pushed out of the frame by Gojyo.

This is one of the most complex of the douga sets I've obtained, and I appreciate the care Vampyreshoujo has taken in recreating its impact.