Ep. 19: Clearing in the woods
Source: TV
Layers: 1
No sketches available
Standard size

Original Matching Background

Added 6/15/2006
Updated 1/15/2016

Akt 19 - Kapitel des Junges: A Midsummer Night`s Dream ~ Ein Sommernachtstraum, Cut 92. This pretty, detailed scene of a little clearing, with a lot of attention given to the details of the foliage and grass, is seen fleetingly and out of focus in the original. It backs a conversation between Ahiru and her classmate Hermia, who is afraid to express her feelings for the boy she loves.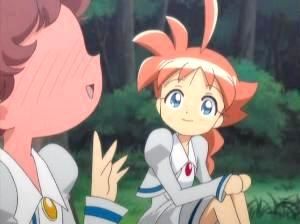 Notice how the big tree trunk on the left is done with less apparent detail, making it seem "out of focus" to the viewer who is watching the action in the clearing. Actually, in the end, the scene was cropped so that the tree isn't visible, though you do see it behind Hermia from different perspectives in nearby cuts.