Papa and Baby Noelle
Source: TV
Layers: 3
Sketches: 1
Cel Number: A1, B1, C1
Oversize, 30W x 27.5H

Key Cel
No Background

Added 6/15/2006
Updated 5/8/2015

Cut 256. In a flashback, Baba explains how a youthful Papa found one of the three angel eggs that fell to earth and "hatched" it in his warm hands. Utterly charmed by the fledgling angel, here he's commenting that humans have a thing they call "family," which is also made up of "gifts from heaven." So he chooses to raise Noelle as his own child. Sequence numbers: A1 (Papa and Noelle), B1 (Papa's mouth/jaw), C1 (Noelle's mouth).




I've wanted a cel from this brief cut for nearly as long as I've known this series, and this one is everything I could have asked for. It needed quite a bit of tender cleaning when I got it, as it looked as if it had been stored in sawdust. But once I got the dust off, I found it was in brilliant, unfaded condition, cute of the newly hatched Noelle and immensely moving of the oni who's just become her Papa.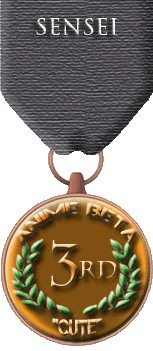 2009 Anime-Beta Cels Awards.


Click to open in new window