Noelle's Incredibly Heavy Butt
Source: TV
Layers: 1
Sketches: 1
Cel Number: B14, B14/1
Standard size
Opening Cel

No Background

Added 6/15/2006
Updated 4/22/2017

Actually, poor Yuusuke's reaction is not caused by Noelle, who's been tenderly cuddling in his arms. (Visit Vapalla's cels for the B10 in this cut, just four images prior to this one.) It's true that later on she does in fact develop an incredibly heavy butt. But in this image Yuusuke's pain is being caused by that dark patch behind him. That's Baba, who's literally jumping on top of him and knocking him clean out of the screen. Sequence number: B14, B14/1 (correction of Noelle's shoulder).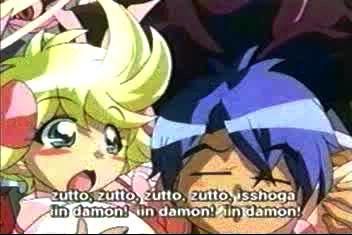 When I got this, I didn't initially realize it was an OP cel, so fleeting is its appearance. But when I went through frame by frame – there it was! See Anime Cel Incognito for a cel that comes almost immediately after this one..

As always, I'm amazed at the expressive detail that went into each cel, including ones that register on viewer's minds only subliminally, if at all!


Click to open in new window