Ep. 22: Slate roof
Source: TV
Layers: 1
No sketches available
Standard size

Original Matching Background

Added 5/16/2006
Updated 1/15/2016

Akt 22 - Kapitel des Junges: Crown of Stone ~ Das große Tor von Kiew. Ahiru arrives at school and is surprised to find Rue (in her normal form) slumped despondently on the lyre-shaped facade of the classroom building.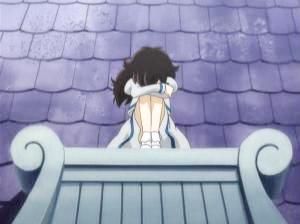 Notice that the roof is made of broad patches of gray watercolor that have been textured with a sponge to give it the gritty texture needed for the roof. In the same lot I also got a functional background for an open window that I believe is used in the same scene, slightly out of focus, behind a puzzled and concerned Ahiru. See the thumbs for this background and a screencap.


Click to open in new window