"I have my sword and my courage!"
Source: TV
Layers: 1
Sketches: 1
Cel Number: A11
Oversize, 10.5W x 12.5H

No Background

Added 8/3/2002
Updated 9/26/2013

Sakura, as The Prince, receives the good fairies' commission, declaring, "I have my sword and my courage: I will rescue the Princess." Sequence number: A11.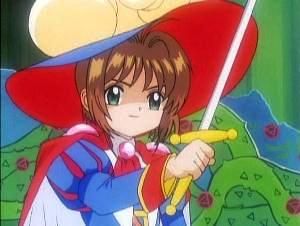 The douga is unusually colorful and annotated, showing the care with which it was painted.




SENSEI CHECK!

This is the cel that turned me from someone who randomly bought animation art into a genuine collector. I spotted it on one of Nick's evening updates at a time when I had just enough funds to buy it. "I took a breath," a contemporary e-mail records, "then asked what I'd think in a year if I knew I could have bought it and hadn't." I have never regretted it. No, it's not quite face-on, but the eyes catch yours and the pose embodies the confidence that carries her through even the darkest adventures.

And by then I knew how crucial and complex this episode was. In fact, I'd agreed already to discuss it in front of a bunch of university scholars at the Modern Language Association meeting later that year. Neither the manga nor the anime was available yet in a licensed English translation: like every other American CCS fan, I used fansubs and online manga trots to support my analysis.

Art collectors know how important it is to have a "focal point" around which to build a collection. This one, full of color, strong in composition, and significant in content, was my first fulfilled wishlist. Even now it makes me catch my breath when I open the cel book to its page. It wasn't my last "wish come true," but it taught me the virtues of being patiently watchful. I didn't have to be satisfied with middling-end art; if I held back and waited and watched, then sooner or later really, really good things would appear.




SENSEI CHECK EXTRA!

Japanese audiences would immediately recognize this costume. It's clearly the outfit worn by Princess Sapphire, the heroine of Osamu Tezuka's Ribon no Kishi or "Princess Knight." She is recognized as the first real "magical girl" character in Japanese anime and, in her penchant for cross-dressing, the prototype for those who followed. So her costume was the obvious model for Tomoyo to use for the play, and also a subtle way for CLAMP to pay tribute to Tezuka, the "manga no kami" or God of Manga.

Macron's cel gallery has the A16 from this fine sequence, while Vapalla's Cels has the A39 from later on in the cut.


Click to open in new window