Firey Irate
Source: TV
Layers: 1
Sketches: 1
Cel Number: B15
Standard size

Key Cel
No Background

Added 3/27/2006
Updated 4/17/2017

Episode: 35 (Sakura's Wonderful Christmas). Firey sees Sakura activate Windy and Watery simultaneously and responds by creating a huge fireball to blast back at them. Sequence number: B15 (key).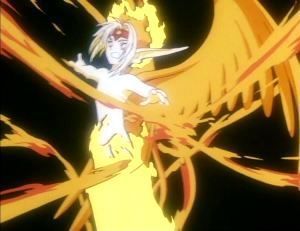 This cel represents Madhouse's virtuoso animation: Firey, taken aback, is twisted sideways, his orange wings splayed crossways behind him. He has one arm pointed at the viewer, where his open hand is concentrating the energy for the fireball. The other arm is pointing in the opposite direction, the whole body inexorably "winding up," in a way reminiscent of Michaelangelo's torsos in the Sistine Chapel frescoes. In a split second you'll see the Firey bring his right arm around to force the fireball off the screen to the right.

All around the Card spirit, tongues of flames are circling, making huge arcs off the edge of the screen and coming back in front of his outstretched hand. Because these flames do not have sharply defined edges, they appear "out of focus" to the viewer, eerily floating "in front of" or "behind" the Firey.

Now realize that this entire image was planned and executed on the back of a single sheet of plastic. There are no effects layers for the streams of fire; it was all done by a single artist using just two dimensions, a limited palette of colors, and every trick of the animation trade. This makes it one of the finest Clow Card images I have seen up for sale in a long time.

Other cels from this dramatic cut are on display at Cel Love (the B4), Gecko Blue Cels (the B5), Sakura Bunnies (the B7), The Lonely Mountain (the B8), Stem Cels (this cel's immediate sequence-buddy, the B16, with Firey starting to "unwind"), Macron's cels gallery (the B18), Macron's cels gallery again (the B20), Macron's cels gallery yet again (the B21), Baka-Inu Cels (the B22), Renee's Cel Gallery, (the B24), Otherside of the Moon (the B25), and Baka-Inu Cels again (the dramatic B34 END).

Macron's cels gallery also has a full set of the original layout sketches for this cut. The "5" sketch that matches the cel image above is in the first thumbnail of the linked page.