Sakura Gets Ready to Devour Natsuki
Source: TV
Layers: 2
Sketches: 1
Cel Number: A1 E, B7 E
Oversize, 12.75W x 10.75H

Key Cel
End Cel
Original Matching Background

Added 2/27/2006
Updated 8/24/2013

Ep. 13 (Cat's Bell), cut 225. The baddies trap poor Natsuki in a shed, and get her in their crosshairs, but Sakura intervenes just in time. In relief, Natsuki falls into her sly partner's arms, who realizes that this is precisely the right time to consume her and so complete the last of her nine magical tails. Meanwhile, armed baddies are slipping up on the shed on all four sides … Sequence number: A1 (Natsuki and Sakura's face), B7 (sinister mouth layer).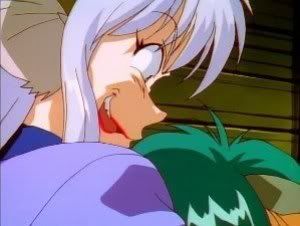 This setup, built around a generously oversized cel set, has a tremendous impact in person that only partly comes through in this scan. The original background (sadly damaged by contact with the A1 cel) sets off the bright colors of the cel vividly, and the otherwise abstract composition draws your attention to Sakura's evil eye and smirk, over and over again. Another token of Studio Pierrot's absolute mastery of artistic strategies.






Click to open in new window