Natsuki Plays Mouse with Batanen
Source: TV
Layers: 1
Sketches: 1
Cel Number: A13
Oversize, 10.5W x 12.75H

No Background

Added 2/27/2006
Updated 8/24/2013

Ep. 21 (The Good Sunny Side of the Verandah), cut 89. Batanan has reverted to childhood, and, in the dreamy world that they've entered, Natsuki is acting like a big sister. To Batanen's delight, she agrees to play with him, winding up a toy mouse and sending it back to him. Sequence number: A13.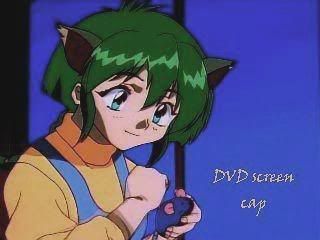 Vapalla has the A6 in this cut. Both of these cels are interesting because of the subdued color and the odd, almost sleepwalking expression on Natsuki's face, appropriately enough for this mysterious episode, which seems to put both of them under some mesmerizing spell.