Natsuki gets Molested by a Monster
Source: TV
Layers: 2
Sketches: 1
Cel Number: A1
Standard size
Opening Cel

Key Cel
No Background

Added 2/27/2006
Updated 8/24/2013

Episode 8. No Time, No Money, No License. Cut 74, Sequence number: A1. Lord, it's gotta be difficult to be a catgirl in an anime series. During an economic downturn, Natsuki and Sakura are working a tough neighborhood, populated by callgirls and their johns. Here poor Natsuki has been mistaken for the former. This cel also had an unnumbered top layer to protect the delicate airbrushed blush on Natsuki's face.

Look at the douga (thumbnail) and see how this scene began with a tight closeup of her funny expression, then panned back to include this amorous centaur-type monster.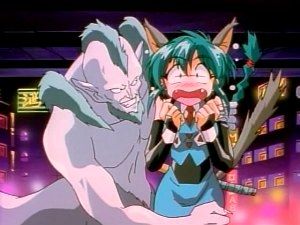 In Nekonoko's Stuff there is an almost identical cel except for the stress drops flying around Natsuki. I'd guess that, in typical Studio Pierrot fashion, these two alternated to make Natsuki quiver with fright.


Click to open in new window