Selece in Action
Source: TV
Layers: 1
Sketches: 1
Cel Number: A31
Standard size

Key Cel
Original Unmatching Background

Added 2/27/2006
Updated 3/25/2013

Umi/Selece uses Water Dragon to help blast a hole in the darkness surrounding Cefiro and give the Knights access to Debonaire. Sequence number: A31 (key).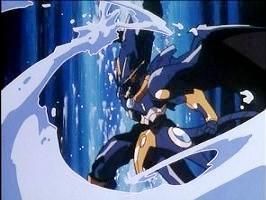 This wonderfully dramatic cel shows Masahiro Yamane's mecha design to good effect, along with Umi's swirling water magic, which is not on a separate layer but was designed and painted on the same sheet of plastic as Selece.

The non-matching background comes from another magical battle scene, in this case Syaoran vs. The Snow in Episode 36 of CCS. You can see this background with its original artboard in the CCS BG gallery.