Ep. 41: Whirlpool
Source: TV
Layers: 0
No sketches available
Standard size
Opening Cel

Original Matching Background

Added 12/20/2005
Updated 4/26/2017

Episode 41 (Sakura, Syaoran, and a Sea of Sand), cut 312. In its original context, this background shows the swirling sand being transformed to ice, thanks to the two cardcaptors' simultaneous use of The Watery and The Freeze.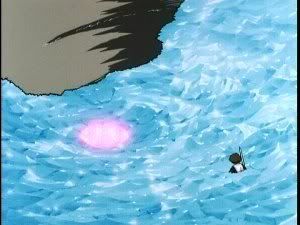 Screencap courtesy of Desertmoon.org

Visit the thumbnails to show some of the conceptual sketches showing how it was used, with cel overlays to show the unfrozen part shrinking. (Other cel layers would show Syaoran stuck in the sand and a glowing patch presumably holding the main power of The Sand.)




SENSEI CHECK!

It's a powerfully dynamic watercolor, and when I saw it, I thought it would make a nice Christmas present for my Watery cel. When I got it, I was concerned when I realized that it was supposed to show ice rather than rushing water. But the cel loved it: you can see Watery positively glistening in front of his new background in the Clowcard Gallery.


Click to open in new window