Tokyo Tower Touya: Cel and Background
Source: TV
Layers: 1
Sketches: 1
Cel Number: A1 END
Standard size

Key Cel
End Cel
Original Matching Background

Added 12/17/2005
Updated 4/24/2017

And here is the painted cel with its original background. Sequence number: A1 END. See how the intense shadows added in the previous stage of pre-production make this image "pop." The eyes end up being especially riveting.

The thumbnails show the douga and a small scan of the nicely done background. You can download a higher-resolution scan of this background from the RS Background Gallery. Flip it, and it might actually make a fairly good wood floor!

Now move ahead to a cel set and original bg from the very next cut!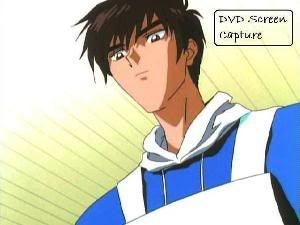 Click to open in new window