Natsuki gets a shock 1
Source: TV
Layers: 1
Sketches: 2
Cel Number: A1
Standard size

No Background

Added 11/13/2005
Updated 9/16/2016

Ep. 13 (Cat's Bell), cut 170: Natsuki looks in shock at an odd little character with bolts in his head, who is actually a monk with the power to do a ceremony that will make peace between monsters and humans. She and Sakura have been assigned to be his bodyguards, and, as you might expect, things don't go well, for a group of baddies seem to know exactly where they are at each moment. Here the monk is suggesting that some kind of tracking device must have been planted on Natsuki.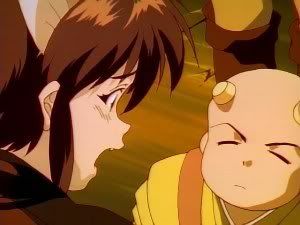 Displayed is the vivid rough for the opening image of this cut, and the thumbnail shows a slightly rougher rough for the second key, where Natsuki grimaces for a moment.




SENSEI CHECK!

The second half, which brings this adventure to an exciting close, was directed by Takuo Suzuki, another artist with relatively limited experience, though more recently the artist has directed episodes of Birdy the Mighty and CLAMP's new series Kobato, plus the Beyblade movie for a younger audience. Presumably the more experienced animator Issei Kume (Neon Genesis Evangelion, Steamboy, Legend of the Galactic Heroes, who did the storyboard, had considerable influence on this well done episode.

The vivid and dramatic rough featured above is likely the work of the episode's animation director, Hiroshi Hara, who also directed and storyboarded Episode 17. Hara worked on a wide range of anime series during the period, including Chobits, Galaxy Angel, Kimagure Orange Road, and Ninja Scroll. I've always liked this brash, broad-lined drawing, and other similar ones from the same episode, and it's especially nice now to be able to put a firmer attribution on them.


Click to open in new window