Insane Natsuki
Source: TV
Layers: 1
Sketches: 3
Cel Number: B8, Bホ, B9
Standard size

No Background

Added 11/12/2005
Updated 9/16/2016

Episode 7: Sorry! While waiting for Batanan to join them on stakeout at a shopping mall, Natsuki sees a fashion display of glamorous outfits. Her partner Sakura vainly tries to tell her that their prices are far beyond their meagre bounty-hunter salary. In the end, the catgirl makes a mad leap in their direction, and has to be dragged away by her cynical partner.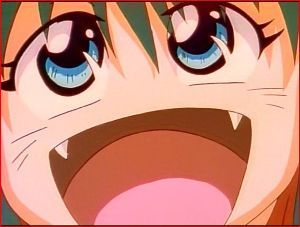 These three gengas come from a broken sketch set that consisted mostly of C mouth layers but had these three B's stapled at the end. They are all funny extreme closeups of Natsuki being slowly dragged away from the evening dress display. Displayed here is the B8, the closest of the three, with the Bホ (ho), a planned inbetweener, and the B9 in thumbnails.




SENSEI CHECK!

This action-oriented episode was directed by Koichi Chigira, who later did storyboarding for Episode 12. He did a fair amount of this work, including storyboards for Arjuna and Magic Knight Rayearth, for which he also directed four episodes. He began as something of a CLAMP expert, doing key animation for the X movie and directing the two prequels for this story, the Tokyo Babylon OVAs. He has since continued to work up the ladder, doing a lot of work, including scripts and direction, for Full Metal Panic (2002). This breakthrough helped him emerge as an important series director in the industry. Notable projects of his include Last Exile (2003) and The Tower of Druaga (2008-09)

The animation director was Hiroyuki Kanbe, a well-traveled animation veteran, with credentials from Miyazaki's movie Kiki's Delivery Service (in-betweeners), Neon Genesis Evangelion, , the Cowboy Bebop movie, and Rurouni Kenshin (key animation for all 3). This HP episode was one of his first assignments as episode director, a role he later took on for many popular shows, including Chevalier d'Eon, Chrono Crusade, Flame of Recca, Full Metal Panic, Hellsing, and Wolf's Rain. Recently he too has been promoted to series director for a number of shows, including Viper's Creed (2009) and Oreima (2010).


Click to open in new window