The Jump
Source: TV
Layers: 4
Sketches: 2
Cel Number: A1, B1, C1
Oversize, 31W x 27H

Key Cel
End Cel
No Background

Added 11/12/2005
Updated 4/17/2017

Episode: 5 ("Sakura, Panda, and a Cute Store"). While Tomoyo distracts Ms. Maki, the owner of the toy store Twin Bells, Sakura and Kero-chan hunt through the boxes of plushies one by one, looking for the one that is causing all the mischief. Finally, Kero shouts, "That's the one!" Sequence numbers: B1/1 (Sweatdrop) C1 (Jump's body and eyes), B1 (Sakura with Jump's ears), A1 (plushies on the shelves behind her).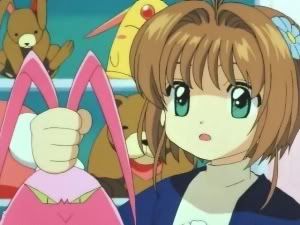 Screencap courtesy of Desertmoon.org

A wonderful image that came to me by way of Anime Jewell's great collection. Thank you Linda!




SENSEI CHECK!

This setup shows some intriguing features. To begin with, the sweatdrop layer came on top of the setup, with its registration holes on the bottom. This suggests that it was supposed to be moved during the filming. (In many other cases, sweatdrops quiver, or slide down during the cut.) However, as you see from the screen cap, this layer was not used in the production version after all and seems to have been stored with the others as an afterthought.

Also, the B layer is not labeled, though the set is accompanied by an obviously genuine B1 douga, on which it's based. If you look at this douga, however (first thumbnail), you'll see that it's annotated with correction indications and stained with cel paint. My guess is that the original B1 layer was rejected because of a serious coloring error and, and so a new B1 layer was ordered. The B1 douga would have accompanied this order and come back with the replacement, which explains how it got splashed with paint.

Anyhow, the finished setup is a fine portrayal of this mischievous Card spirit, who is surprisingly difficult to find, considering that he gets a fair amount of screen time in this episode.




SENSEI CHECK EXTRA!

The shifty expression on his face and the chaos that breaks out subsequently make it pretty likely that Jump is in fact the one guilty of the trouble that Ms. Maki has had selling toys in the past. Still – if I'd been Kero-chan, I'd have taken a much closer look at that plushie on the top shelf to the right (partially behind Sakura's hair). Unless I'm mistaken, some pretty suspicious occurrences have been reported elsewhere associated with a plushie that looked an awful lot like this one. (See second thumbnail for the douga for this layer.)


Click to open in new window