"This is a dream": Shuuseis
Source: TV
Layers: 2
Sketches: 2
Standard size

Key Cel
No Background

Added 8/22/2005
Updated 3/21/2013

Here is the extraordinarily beautiful complete shuusei (correction genga) of Sakura done by Atsushi Hasebe, the episode's animation director. The genga looks fine to me … but nearly every detail has been reworked in this correction, from the shadows to the exact angle of Sakura's ribbons, a sign of how important the sakkan considered this image.

The thumbnail shows the Kero shuusei. I would have thought that the exact contours of Kero's rear end would have been determined in the settei … but a comparison of the genga and shuusei shows that there was some uncertainty as to exactly where his tail sprouts out of his butt.

Madhouse was nothing if not scrupulous about details such as these, even if this anatomical fine point actually falls just outside the safety, as the screencap shows.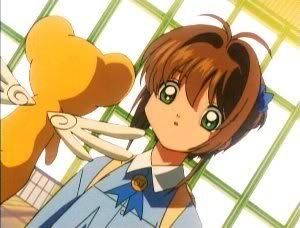 Click to open in new window