Sakura Changes Firey: The Aftermath
Source: TV
Layers: 1
Sketches: 1
Cel Number: A1
Oversize, 17.25W x 9.5H

Key Cel
No Background

Added 7/25/2005
Updated 4/15/2017

Episode: 48 (Sakura and the Awakened Star Key). Sakura has just used Firey to free her companions from the magical waterspouts. In a dramatic pan shot, we see the exhausted three -- Yue, Kerberos, and Tomoyo -- standing in front of Sakura who is still holding her magic user pose. Key: A1 end.

Despite the crease, this genga gives a nice view of the two winged but somewhat bedraggled Protectors: see the first fingernail for a closer look (about actual size).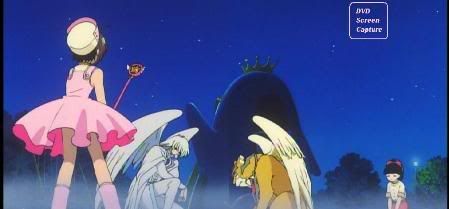 Click to open in new window