Victory!
Source: TV
Layers: 2
Sketches: 2
Cel Number: A1, B1
Standard size

Key Cel
No Background

Added 6/3/2005
Updated 9/26/2013

Episode: 46 (Sakura and the Last Judgment), cut 290: Sakura has captured Yue and brought him to the ground in bondage before her. Here she looks at him, not in triumph, but with gentle kindness. Sequence number: A1 (Sakura), B1 (eyes). This 美品 [beauty item] truly comes from a scene that the YHJ seller accurately called すごく良い [uncanny good].

This cel came with both the A1 partial base douga for this cut (Sakura's face and body) and the B1 douga (eyes only). The first thumbnail takes you to these two, digitally combined to give the eyes context.

The cel looks so brilliant against a midnight blue mat that it's odd to see from the screen cap below that in the broadcast version it appears against a cluttery Tokyo Tower bg with a yellow special effect washing out the left side.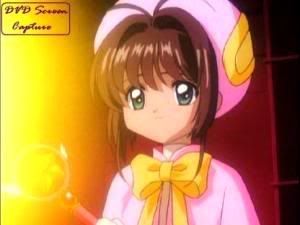 Click to open in new window