Alcyone in Crisis, cut 74:3
Source: TV
Layers: 0
Sketches: 3
Cel Number: 4, 5, 6
Standard size

No Background

Added 5/2/2005
Updated 3/25/2013

Finally, Alcyone floats up into the air, her hair and robes swirling around her. The fourth layout (shown here against the second layout for context) is simple but extraordinarily effective in showing Alcyone's agony.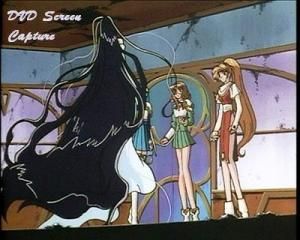 Screen cap courtesy of Snakeskii.