Slayers 18: Gourry Confronts Zangulus
Source: TV
Layers: 0
Sketches: 2
Oversize, 14.5W x 12H

No Background

Added 2/21/2005
Updated 6/24/2017

i>Slayers Episode 18: RETURN! The Red Priest is Back! At the climax of this episode, Gourry and Lina are ambushed by Zangulus and Vrumugan, plus a host of elementals they conjure up. Lina, however, uses her prowess with the sword to (apparently) do in Vrumugan, and Gourry overpowers Zangulus. Here he prepares to interrogate the trio's pesky nemesis.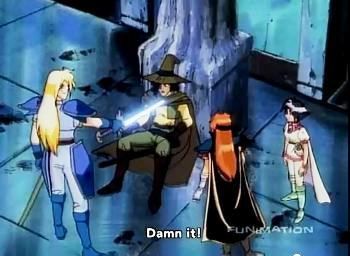 Note that Gourry's head has been crossed off; the animation director decided to have his head turned toward Lina, a triumphant smirk on his face (see thumbnail for the reworked pose). Also, the sakkan seems unhappy with the rendering of the Sword of Light: see the long note with a little sketch of how it should look.


Click to open in new window